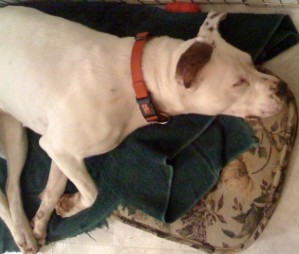 So it has been an eventful Christmas – New Year's Holiday here at the Weathers household. Things didn't work out how we planned, but we're hanging in there, and the ride has ultimately turned out fun after all.
Every year, Melinda and I both take off the week of Christmas and the week of New Year's Day. This year our vacation started after we both left work on Friday, December 19. Saturday, we enjoyed our first day of the break by taking Doobie to the dog park and then doing some last minute Christmas shopping at Fry's Electronics store followed by some tasty gluten-free pizza at a Pepperoni's Pizza in Duluth.
Also, on Saturday, we finally managed to get salt delivered for our house's water filtering system. It turned out that thanks to a tripped wire, our system had not run through its cycle for several months. So in addition to filling up the salt in the tank, the tech guy set the system to run that night.
Despite being on vacation, we couldn't quite shake the habit of getting up early for work, so Melinda and I woke up around eight on Sunday. We went downstairs, and I made us some breakfast and coffee at which point it became clear that the initial run of our water filter system after months of disuse had left the water in our pipes tasting funny. In fact, the taste was unpleasant enough that we poured out our coffees.
But Melinda definitely needs her coffee in the morning despite not really drinking the stuff much until I came along. So it fell upon me to run out for some emergency coffee orders. The plan was a quick drive to the Starbucks that sits a few intersections down from our neighborhood on Windy Hill Road. Since they have a drive-thru window, I wouldn't even have to get dressed! Thus, garbed in a bathrobe and a simple coat, I set off on my short trip – it turned out to be shorter than either of us thought it would be. Continue reading →