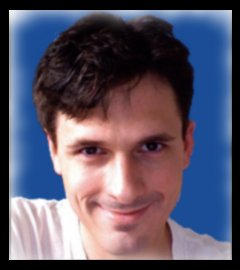 My name is John Weathers and this is my personal blog. I'm a software engineer living in Atlanta with my wife Melinda who is an owner of a software consulting business. We have a chow-dalmatian-retriever-collie-bulldog mix named Doobie and a pitbull terrier named Perrin.
I graduated from Georgia Tech in 1998 with a Bachelor of Science degree in Mathematics which was always my love and obsession in school, but since then computers and computing have usurped that place in my heart. I work on computers all day and then come home to often play with them. My wife and I are both currently graduate students in Georgia Tech's Online Master of Science in Computer Science program. I am focusing my studies on machine learning and artificial intelligence.
I enjoy listening to a wide variety of music and try to listen to as much as I can throughout the day. I also enjoy reading books. I used to mostly read fiction heavily weighted towards the classics, fantasy and a tiny bit of science fiction, but I now mostly read books about history, politics, and economics.
I am a Christian, a practitioner of non-violence, and a Marxist.