So I flew to Chicago on Bastille Day to see one of my favorite bands: the Swedish melodic death metal gods At The Gates. Initially, I had my hesitations about traveling from Atlanta to Chicago to see a concert – but ultimately the additional benefit of visiting a friend whom I've not seen in many years together with the one-chance-only kind of event that this concert represents (At The Gates broke up in 1996 and this is their "Suicidal Final Tour"), I went for it and purchased my tickets back in April along with a plane ticket and a hotel reservation.
My flight ran a little late so I didn't actually get to my hotel until around 4:15 by which time I was pretty much guaranteed to arrive too late to see the opening band. This turn of events didn't really bother me too much as I was only going to the concert to see one band and that band was the headliner. After dropping off my luggage at the hotel, I caught the airport shuttle back to O'Hare airport where I then took a CTA blue bus to Rosemont station. There, I finally caught the CTA blue line train which took me into downtown Chicago where I easily found my way to the House of Blues after a quick detour for some McDonald's.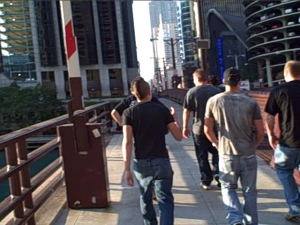 When I entered the building to pick up my tickets from the Box Office, I could hear that the first band was already playing on stage. Apparently, they keep a tight schedule either on this tour or at The House of Blues in general. The concert doors opened at 5:30 and it seems that the first band Toxic Holocaust began playing at 5:45. As one guy waiting in line with me commented, that's pretty amazing for one of these shows. Usually, you stand around for a long time after the doors open before any music starts and often there are long periods in between bands.